Commitment
Throughout all of our operations we strive to:
Minimize our environmental impact and/or footprint.
Pay a living wage to all our employees.
Make ethical and responsible buying decisions, repairing & re-purposing where feasible.
Offset what we can not reduce or eliminate.
We are a team of expert mariners, certified naturalists, and lovers of wildlife. We believe that education and showcasing responsible wildlife viewing behaviours are a key component of operating as a sustainable organization and help to shift the mindset of our guests.
A few of the key incentives we are committed to include:
Offsetting our carbon footprint each year
Self enforcing our own code of conduct for responsible wildlife viewing
Engaging in citizen science and sharing our sightings through various sightings networks
Maintaining our equipment to run at the highest efficiency
Choosing local suppliers where possible
Operating most of our systems paper free and using post consumer recycled paper for the rest
Using cleaning products that are free of harmful chemicals
Vision
Campbell River Whale Watching and Adventure Tours vision is to be a leader among Vancouver Island Whale Watchers. We aim to inspire transformation in our guests behaviours and thought processes around sustainability and conservation through a connection with nature and wildlife.
Mission
Campbell River Whale Watching offers premier wildlife and nature experiences through respectful and ethical practices. Sustainability is factored into every decision we make as we continue to strive to improve our practices, and challenge our industry to join us and help make a difference.
Goals
Each year we reflect on our policies and develop new attainable goals for our operations. Unfortunately, COVID-19 did have a dramatic impact on our goals during our 2020 season. We have had to push back dates on some of our goals, as we were not able to follow through on certain initiatives we had planned. Below are the current goals:
To eliminate single use plastics by 2022
To double the amount of forest we protected in 2019 annually by 2023
To increase our community impact through a minimum of 150 volunteer hours
To conduct a waste audit and decrease our garbage going to landfills by 5%
To measure our carbon footprint on a per guest basis and off set it by a factor of 2x
Forming a Partnership by 2023 to start developing a hybrid or plug in whale watching vessel
To pursue deeper connections with our local Indigenous Nations, including attempting to move forward protocol agreements by 2024
Check out our sustainability report below, and join us in our efforts by signing our visitor pledge!
Carbon Neutral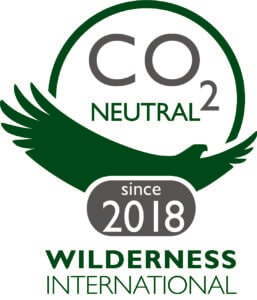 We have been Carbon Neutral since our 2018 season! In partnership with Wilderness International, in 2018 we have protected 6848 m2 of pristine old-growth rain forest in British Columbia. Each square meter of rain forest holds 104.79 kilograms of CO2. We are offsetting our carbon footprint by 1.5x with a goal of reaching 2x by 2019. All of this is determined by an in-depth 2018 sustainability report (available below) which is a monumental achievement for a company with less than 20 employees.
Sustainable Tourism Canada

We are excited to be apart of the Sustainable Tourism 2030 community! We currently hold a Silver ranking and are always looking at ways we can do better.  The following are some of our key initiatives that we do towards our Commitment to be Green:
At the start of our 2018 season we switched our office over to an online booking platform as a major step towards making our operations paper free. The paper we do use is Earth Choice
We collect $1 from every guest who joins us onboard towards NIMMSA (North Island Marine Mammal Stewardship Association). This fund goes to support conservation and education in our area
We use phosphate free cleaning products
We have installed low flow toilets
All of our lunches are made by our local Snack Shack, and packaged in reusable containers and thermoses
We have switched over to a cartridge free printer
All of our boats are well maintained, and updated regularly ensuring they are fuel efficient