We are proud to offer the largest Whale Watching Fleet in Campbell River. We have a variety of vessels to suite every travellers needs.
The starting point for every tour, the Float House is home to our helpful Guest Services team, a water bottle refill station, and our gift shop featuring a variety of local and hand crafted products. Looking for some local insight? Ask our crew to help you out!
Roxy was build in 2016 by Victoria based builders Titan Boats. She was built specifically for whale watching in our area. With 600 horsepower Roxy will get you were you need to go in all conditions. With its roomy seats, spacious bathroom (or head), you will most often see this vessel our 6 Hour Whale Watch or Full day Whale Watch. Features include Ray Marine navigation and Radar, dual VFH Radios, hydrophone, and full PA speaker system.
Length: 8.15 m / 26'7 ft
Power: Twin 300 hp Yamaha outboards
Capacity: 12 passengers
Ninja is the smallest boat in the fleet, but the fastest. This Zodiac Hurricane 733 is an iconic hull design, the chosen hull for Canadian Coast Guard and Law Enforcement. She has 400 hp, a toilet and the state of the art navigation and safety equipment that all our vessels do. Ninja is the "sports car" of our fleet, and can be found on just about every tour we offer.
Length: 7.33m / 24' ft
Power: Twin 200 hp Yamaha outboards
Capacity: 11 passengers
Rocket is favorite among many of our staff. This Titan 249 Offshore, has 400 hp and similar state of the art safety and navigation equipment. Rocket is an agile boat that can be found riding the waves and whirlpools on our Rapid Tours and our 3 or 4 hour Whale and Wildlife Tours.
Length: 7.62m / 25' ft
Power: Twin 200 hp Yamaha outboards
Capacity: 12 passengers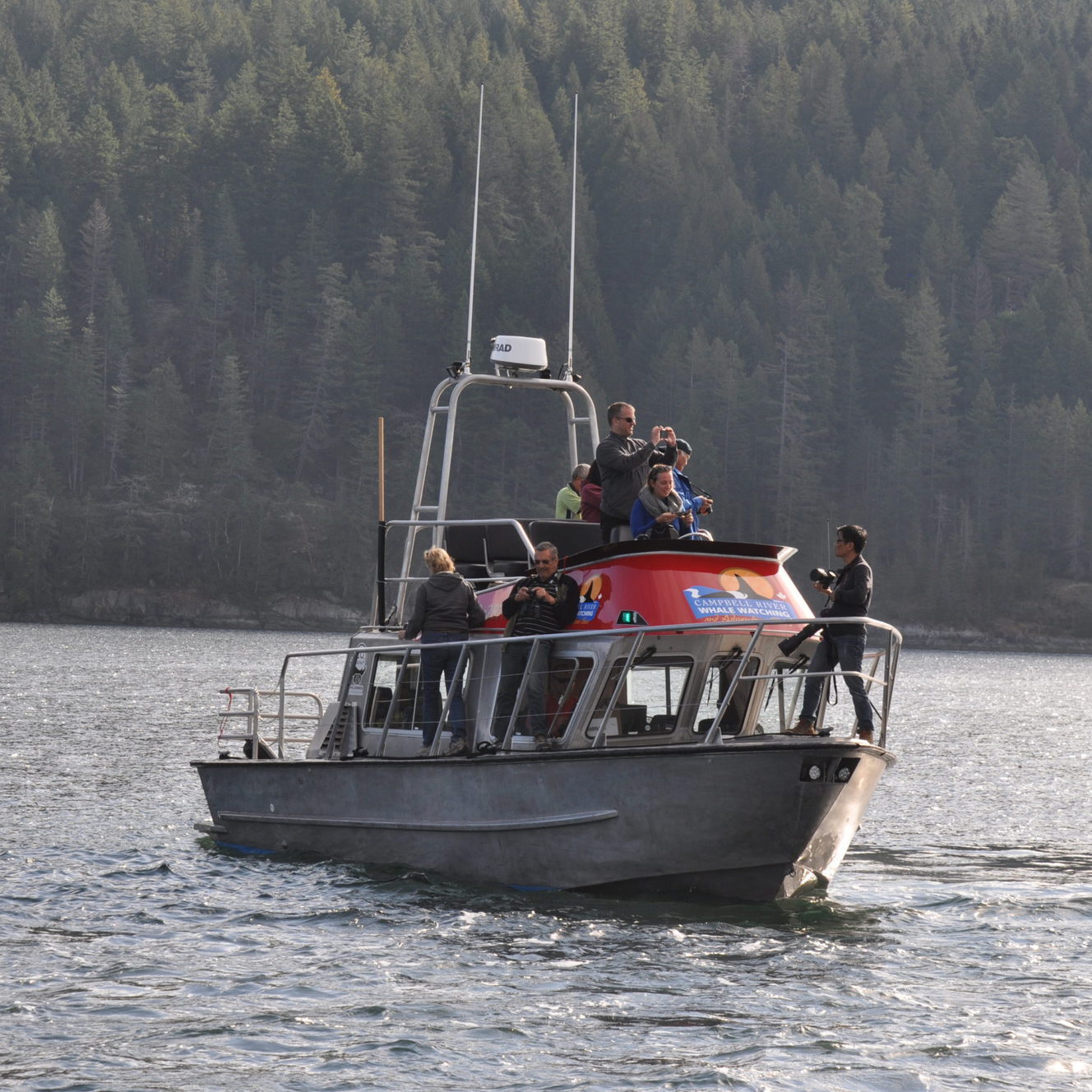 Wild One is an Eagle Craft built by the Campbell River Based company Daigle Marine. Originally built as tour boat, it was sold to logging company and spent most of its life moving crews along the coast. Purchased in 2018, the crew took on the huge project of repowering, and re-building the whole interior. With 3 heaters inside, this vessel is a comfortable ride in any weather.  Guests can walk around the sides for an unobstructed view, and the second level has space to seat six.
This vessel has a cruising speed of 30 knots. Wild 1 can be found on our Spring Bear and Water Fall tour in early season, on whale watching trips throughout the summer, and on our Grizzly Tours in the fall.
Length: 9.14 m / 30' ft
Power: Twin 330 hp Volvo Diesel Inboard engines
Capacity: 12 passengers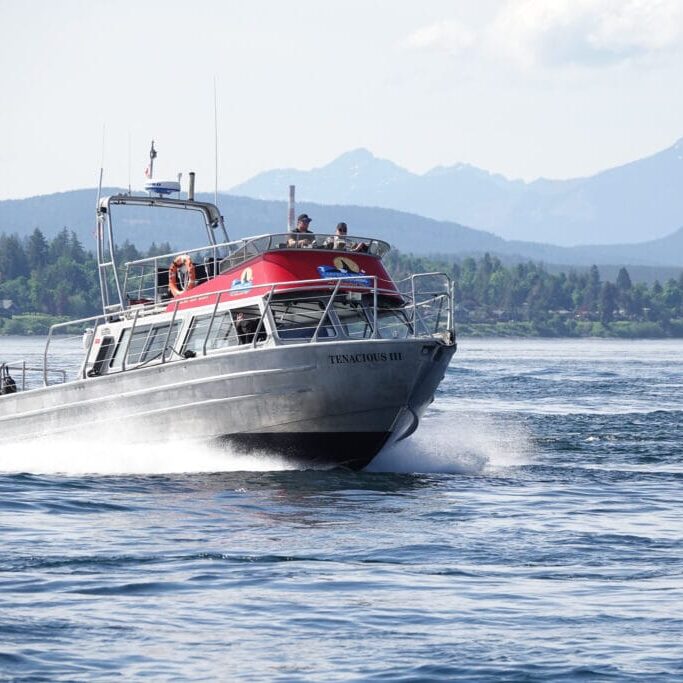 The latest addition to our fleet of covered boats is the M.V Tenacious III. The T3 (as we often call her) is a beautiful 30 passenger vessel with heated seating inside, upper deck seating out, as well a spacious walk around deck and onboard washroom. Built locally by Daigle Marine, the T3 is built to a very high standard, just like the other vessels in our fleet. This boat was custom made as a whale watching vessel, specifically our area. It was previously the primary vessel of Discovery Marine Safari's, which was brought under the Campbell River Whale Watching Tours brand in 2022. Throughout the season you will see the Tenacious III running our 4 hour Whale and Wildlife Tours, and then once we get into mid August, she is doing daily trips into Bute inlet for our Grizzly Bear Tours.
Length: 12.8 m / 42' ft
Power: Twin Volvo Penta 330 hp 6 cylinder stern drive engines
Capacity: 30 passengers
We also have two other covered boats built by Daigle marine. These boats are leased and can change from year to year, but they are very similar year to year. They offer plenty of deck space for wildlife viewing and photography. Covered boats are a popular choice for younger children and those wanting a bit more flexibility to walk around while on board, and stay comfortable despite the elements with in fully enclosed heated cabin (with large viewing windows!) Our covered boats can be found on whale watching trips throughout the summer, and on our Grizzly trips in the fall.
Length: 9.45 m / 31' ft
Power:  Volvo Penta Diesel Inboard Engines
Capacity: 12 passengers