We are lucky to work with a network of amazing community partners!
Conservation Contributions

The Marine Education and Research Society (MERS) is a registered Canadian charity dedicated to promoting conservation and understanding of marine ecosystems through scientific research, environmental education, and marine wildlife response. They incorporated in 2010 and are based on northern Vancouver Island, British Columbia in the Territory of the Kwakwaka'wakw.
The Marine Education and Research Society's team is comprised of marine biologists and educators highly dedicated to marine conservation. These efforts include education programs to train Marine Naturalists and to educate boaters.
Their research conservation efforts are focused on Humpback Whales, Minke Whales and Ocean Sunfish species in British Columbia but has also included work to understand and reduce risks to additional marine mammals in BC and in other parts of the world.
Recognition includes being the recipients of two EcoStar Awards. They truly are a small organization doing big work.
We support MERS through sighting data and humpback photos throughout the operating season.
The North Island Marine Mammal Stewardship Association, NIMMSA, became Incorporated in May 2007 after north island based marine eco-tourism company owners formed a society steering committee in April 2006. The purpose of NIMMSA is to undertake business and stewardship actions aimed at benefiting the local marine environment, species within it, and the economy. NIMMSA currently represents the shared vision of 25 organizations.
North Island Marine Mammal Stewardship Association members are committed to the sustainability of a positive balance between human activities and the health of the local marine eco-system. Prior to the creation of NIMMSA its current members had a long history of cooperation and stewardship but no formal body to represent or fund mutually beneficial initiatives.
We have been a member of NIMMSA since the very beginning, currently Stephen Gabrysh is the president.
It all began with the enthusiasm for forests with huge trees. Today, Wilderness International is a non-profit foundation with a great goal: to protect unique wilderness areas for future generations. Since founding in 2008, with the help of schools, companies and private individuals Wilderness International has been able to purchase, register and thus legally protect 4.5 million square meters of valuable and endangered rainforest in Canada. Numerous scientific institutions support our research projects on CO2-absorbtion and biodiversity in the coastal rainforests.
Campbell River Whale Watching and Adventure Tours has been a proud partner of Wilderness International since 2018. Through our partnership we off set our carbon footprint, protecting old growth forest in the Toba River Valley.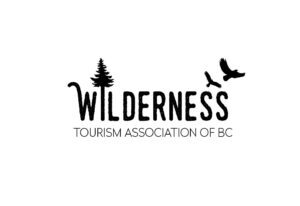 Today, the WTABC works to improve communications between tourism operators, governments and other industry sectors regarding wilderness conservation and access to wilderness tourism opportunities.On a day-to-day basis, the WTABC consults with government and non-government organizations, as well as other industry sectors to tackle prevalent issues and stay informed on policies, trends and research. From these consultations, the WTABC addresses concerns and puts forward recommendations for best practices, and has helped members across the province with individual and collective interests, needs and challenges. In addition to the issues of land tenure and forestry, the WTABC also helps operators with land use conflicts, marine use planning, park accessibility, taxation and the preservation of wildlife and habitats.
Campbell River Whale Watching and Adventure tours is a member of the WTABC.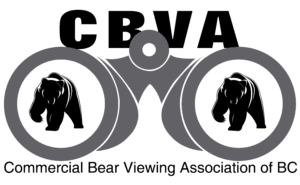 We are proud members of the Commercial Bear Viewing Association (CVBA). The CVBA is dedicated to conservation, supporting research, and training. The CVBA has established science backed Best Management Practices, and continues to evolve the industry standard as new research comes out. Our Bear Viewing Guides, along with the onsite First Nation Guides in both Bute and Toba Inlet are Certified Bear Viewing Guides and have gone through a 2 day training course hosted by the CVBA.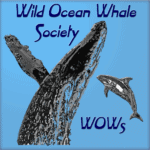 Through the promotion of good stewardship of our coastal communities and oceans,  Wild Whales Ocean Society educates the public on marine mammals, creates respect for our environment, and promotes sustainable practices for boating, fishing, and recreational use while protecting our marine mammal species. Wild Whales Ocean Society raises awareness about cetacean conservation, marine species at risk, and human impacts on wildlife and the marine and coastal environment through publications online, websites, brochures, posters, outreach programs, presentations and workshops.
We contribute to Wild Whales Ocean Society through submitting marine mammal sighting data through their texting network.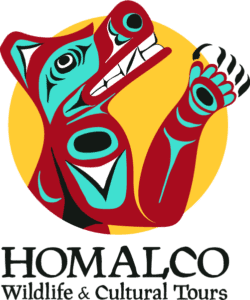 Homalco Wildlife & Cultural Tours and its staff have been stewards of the grizzly bear population in our traditional territory of the χwe̓malhkwu (Homalco) First Nation in Bute Inlet for two decades. The sites cultural and historical significance spans since time immemorial. Your journey with us as a First Nation tour operator is complimented with a unique Indigenous perspective on your wildlife experience. We invite guests to the iconic Canadian wildlife and spectacular nature through the eyes of the Northern Coast Salish people. Learn about the connection through stories, language, history and knowledge and become immersed for a day of cultural discovery and wildlife.
We are proud partners of Homalco Wildlife and Cultural Tours on our Bute Inlet Grizzly Tours.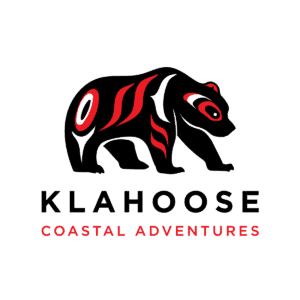 Situated on the central coast of British Columbia, the Klahoose Nation has lived since time before memory on lands, waters and air that make up their territories. Klahoose ancestors spirit soars here and can be heard in the wind as it rustles the treetops and guides their peoples.
​We are proud partners of Klahoose Coastal Adventures on our Toba Grizzly Tour.


Wildcoast provides all-inclusive multi-day sea kayaking expeditions and luxury basecamp kayak tours here on the west coast.
Looking to venture into the wilderness in search of whales? Join a basecamp glamping adventure and enjoy the comfort of safari style tents, delicious food, quality gear & experienced guides.
Wanting a more nomadic journey? Multi-day kayaking expeditions through Desolation Sound and the Discovery Islands will immerse you in the wilderness venturing between remote sparsely inhabited islands.
Experienced guides will take you places you never imagined. And the amazing food, spectacular paddling, awesome camping & wildlife will leave you with an adventure you won't soon forget.
We are proud to partner with Wildcoast on a number of tours including our single day Kayaking and Whale Watching tour.
Golf Vancouver Island is a one-call solution for travel planning and booking golf vacations on the Vancouver Island Golf Trail in British Columbia.  Golfers save time and money while choosing from 13 golf courses and a wide range of accommodation options and off-course experiences on the Vancouver Island Golf Trail.  Golf Vancouver Island provides complementary information, vacation and travel planning assistance and reservations for all Vancouver Island golf trips.