Posted:
Spring is in the air and we are excited to announce our brand-new tour!
Two things that we love about spring are that we spot Bears that have just come out of torpor which is a lighter form of hibernation, and we get to see beautiful flowing waterfalls from the winters melting ice! Our Spring Bear and Waterfall tour will be the perfect tour offering something different and it's only available for a limited time!
How is this tour different from a whale watching tour?
On this tour, you can expect to see some beautiful Mainland Inlets that are less frequently visited such as Toba Inlet, Ramsay Arm, and Phillips Arm. They are aren't visited as often because they are further away, and due to the abundance of wildlife in our area during summer months, it is not necessary to travel into these inlets to have great wildlife viewings! However, during the springtime, Grizzly and Black Bears have just come out of torpor and head to these Mainland inlet shorelines to forage for molluscs and other food sources from the intertidal zone. This gives us the opportunity to have fantastic Bear viewings from the water, allowing guests that can't make it out on a Grizzly Tour later in the season or people with family members under the age of 12 the chance to see bears!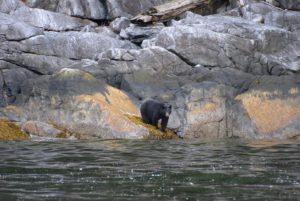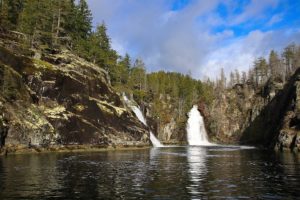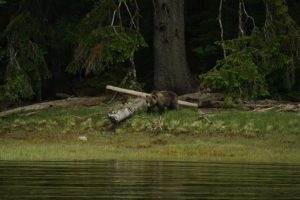 They say, "don't go chasing waterfalls" and we say, "why not?!"
These Mainland inlets have spectacular scenery that you must see to believe! There are high mountains emerging right from the waters edge and beautiful cascading waterfalls. Not only are these waterfalls at their most impressive size due to the winter's packed snow melting from the mountain tops, but the run off from the glaciers carry sediment that actually changes the colour of the inlet to a lighter blue that resembles the colour of the tropics!
Will you see any other wildlife?
With 6-7 hours available, we will do our best to show you everything we can! As we do not stick to a pre-planned route, we have the flexibility to view a variety of other wildlife such as, but not limited to, Bald Eagles, Orca, Humpback Whales, Pacific White-Sided Dolphins, Sea Lions, and Harbor Seals! Our guides are passionate about what they do. A great day at the office means that they have had a great tour sharing as much of our wildlife as possible and witnessing guests faces light up with excitement!