Posted:
It's not uncommon to have somebody in your life that is impossible to shop for.  What do you get someone that already has everything?  Look no further: we've put together a list to make your life easier!
Check out these unique and environmentally friendly ideas!
Gift a piece of Old Growth Forest
Who doesn't want to own a piece of land? Donate to Wilderness International on behalf of the nature lover in your life! They are a non-profit organization that legally purchases wilderness areas to ensure that they're around for future generations!  Since their founding in 2008, with the help of schools, companies and private individuals, they have protected 3.16 million square meters in Canada.
Donating provides you with a postcard that has a unique code that you can register online to receive a sponsorship certificate which designates the exact location of your protected area with geo-coordinates. That piece of land will be in their name forever!  You can donate through our website under "Book My Tour"!
Gift a pair of Socks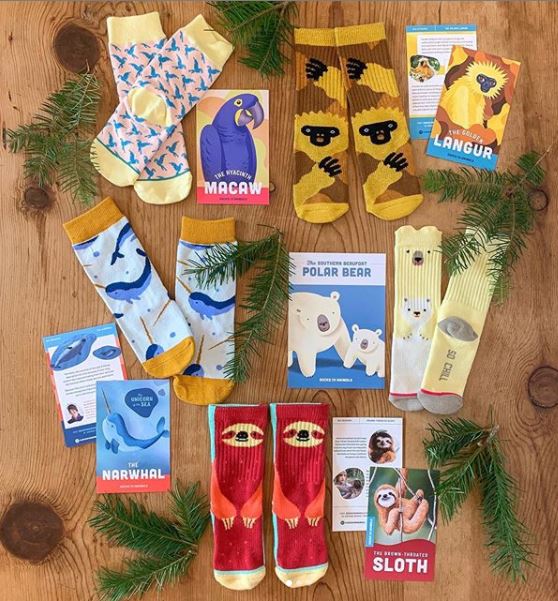 Socks For Animals was created by a wildlife biologist who wanted a fun way to educate the public about threatened and endangered species.  They use plastic-free shipping and all purchases directly contribute to researchers in the field.  It's an affordable and special way to feel connected to animal conservation!  Plus, who doesn't love fun socks??
You can find more information about their different wildlife projects and how exactly your donation will help over on their website.
Gift a pair of TOMS
While we're talking about clothing items, why not purchase a pair of shoes that are stylish but also make a difference?  TOMS was originally a "one for one" company meaning that for every purchase of a pair of shoes, a pair was given away to someone in need.  Now, they have changed to a "giving fund" meaning that they give away $1 for every $3 that they make.   In 2020, through the TOMS COVID-19 Global Giving Fund, they generated $2 million in support of global relief efforts. Over the next few months, they plan distribute the funds to partners that remain on the frontlines, delivering supplies, building hygiene stations, and more!
If you're worried about the shoe production being unethical or sustainable, TOMS "believes local production helps build industry, create jobs and build sustainable futures. Today, [they] are proud to manufacture all of [their] giving shoes in regions where [they] give."
Gift a Recyclable Writing Utensil
Most things are becoming electronic these days but I still believe that it's important to keep a pencil around! Check out Sprout World and have a look at their pencils!  They are 100% natural and non-toxic and made of sustainable wood, graphite, clay and non-GMO seeds.  All of their pencils are made of PEFC or FSC certified wood. This means that every time a tree is harvested, another one is planted!  You can even customize them to turn them into the perfect present!
Gift a bucket list experience
Gift giving isn't supposed to be a competition but we all know that we want our gift to be the most memorable one of all.  Something that can't be beat is an experience that will provide life long memories!  For many people, seeing bears in their natural habitat is at the very top of their bucket list. Why not help your loved one check that off of their list?
You can find out more about our Grizzly Bear tours here.  If you're not sure when they would want to go out on a tour, you can purchase a gift voucher for them to book when they're ready!