Posted:
Have you seen our newest addition to the fleet, the Tenacious III? This past season was our first in operation since bringing Discovery Marine Safaris under the Campbell River Whale Watching umbrella and with it, their flagship vessel the Tenacious III.
Here are 10 Facts about the Tenacious III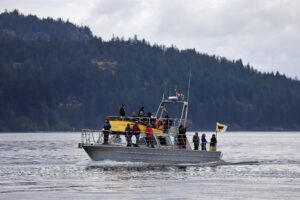 1) She is 42' or 12.8 m long
2) We can accommodate 30 guests onboard
3) There are 3 options for viewing – the wrap around lower deck, the upper deck which seats 10, and the indoor heated cabin
4) There is a full sized marine head (or toilet)
5) Most days throughout the early season the T3 operates our 4 Hour Whale Watching Tours, before spending the later part of the season in Bute Inlet for Grizzly Bear Season
6) The T3 is an Eagle Craft Welded Aluminum boat, custom designed specifically for whale watching and built right here in Campbell River by Daigle Marine
7) On all tours aboard the T3 there is a vessel Captain, plus a Marine Naturalist, who is there to provide you with all the information you could want about the wildlife we are seeing as well as being a fully certified mate
8) She has twin 330 hp Volvo inboard engines which can propel the boat to a cruising speed of 25 knots or 48 km/hr
9) Up until 2023 she could be easily recognized with a bright yellow banner. She is currently being re-wrapped in red to match the rest of the Campbell River Whale Watching Fleet
10) There is always a Hydrophone onboard which the naturalist can pop in the water, to listen if the whales are being vocal
Hope you found these facts interesting. We hope to welcome you onboard the T3 this summer!