Posted:
You've been planning your dream trip for months, eagerly awaiting the day you finally get to head out on the water for a chance to see humpback whales and orca and all the amazing wildlife our area is home to. We know the feeling, we still feel this way every single day!
But, there is one big variable that can have a pretty major impact on your tour: The Weather.
Your comfort, enjoyment, and safety are our number one priorities. We do our best to mitigate the conditions and here is how:
Wind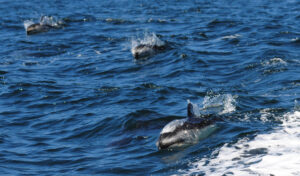 First and foremost, we are very lucky in Campbell River to have (mostly) calm and protected waters. The many islands and inlets mean if the wind is blowing, there is usually somewhere to go where the water is still calm. We very rarely have had to cancel a trip due to wind.
Our boats are designed to handle the most adverse of conditions. The RHIB (ridged hull inflatable boat) or zodiac style boats we operate, are the same type of vessel used by the Coast Guard and the RCMP. They are made to run in the wildest of weather. Our covered boats are made by local boat builder, Daigle Marine. These vessels are built on Vancouver Island, with our specific weather conditions in mind.
Rain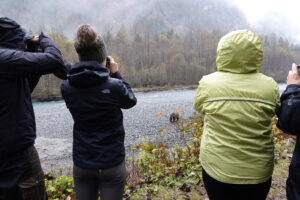 For rainy days on the zodiacs we have a few things to make the day more enjoyable. Ski goggles to protect your eyes, toques and gloves to keep you warm, and rain ponchos to help keep you dry. Our floater suits that we wear on every trip also keep you warm. We always suggest wearing extra layers as it is cooler out on the water than on land, but on rainy days, wearing an extra jacket under your floater suits helps. All of our toques and gloves are fully cleaned and sanitized between guests.
If the rain is coming down in one area, it doesn't mean it is everywhere. We can often find a spot where it is not raining.
The wildlife is very abundant in our waters. Finding new spots to avoid the wind or rain, does not mean less wildlife! Some of our best sightings and photos have been the result of poor weather days! The clouds or low light conditions are often a photographers dream as there is less glare.
If we decide it is just too rainy to head out, we will first try and switch to our covered boat, or try to reschedule the trip. If neither of these are an option that works for you, we will provide a full refund.
Smoke / Fog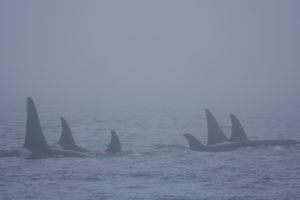 Some summers, smoke from forest fires is inevitable. We have never had smoke bad enough that we felt we needed to cancel a tour. Whether it is smoke, or fog we are still able to see the wildlife. Our captains are trained and experienced professionals who can operate the boats using their Radar in low visibility conditions. As we mentioned, your comfort is our priority so, if any guest ever had health concerns (asthma etc) from smoke, we would absolutely allow the person to re-book or cancel.
Even though weather events like these are rare, we monitor marine forecasts multiple times a day looking at wind, rain, and tide, and are always informed to make the best decisions for our crew and guests. Our team is in communication with other vessels on the water getting real time updates of what is happening in different areas. When making the decision to cancel a trip, the captain, the management, and the guests all have a say in making a choice. In the event that we do decide to cancel a trip we will do our best to reschedule your tour, or provide a full refund.