"The XWE'MALHKWU, or Homalco, First Nation are known as the people of the fast running waters ... Like other Coastal First Nation peoples, the Homalco thrived on the bounty of the ocean, lived well in the village sites, and had all other necessities for everyday living. Travelling with the seasons for gathering, hunting and fishing, the Homalco people shared in the resources throughout the territory, and above all were taught to respect the ever-so-sacred cedar tree."
-- quoted from the Homalco Wildlife and Cultural Tours website

Journey to the Orford River Valley aboard a comfortable, high-speed covered vessel where you will be taken on to the traditional territory of the Homalco First Nation via bus to a series of viewing platforms.  The Orford River offers some of the best Grizzly Bear viewings on the West Coast and we can guarantee that this tour will be the experience of a lifetime. Join us as we take our time travelling to the Orford, prioritizing time to stop to view whales and wildlife along the way.
We are proud to offer the longest Grizzly Tour into Bute Inlet, at 8-9 hours long, with a focus on marine wildlife viewing, as well as Grizzly Viewing.
We require a minimum age of 10 years old to participate in this tour.
Adult Prices starting from: $455 plus fees and taxes
Departs every day at 8:30 am from August 19 - October 15

On this tour you will enjoy:
Extra time allotted on the boat ride to the Orford specifically to view marine wildlife
Interpretation by your certified Naturalist and Captain
Homalco First Nation Bear Guide while on land
3 hours on land in the beautiful Bute inlet
The opportunity to view Grizzly Bears try and catch and feed on spawning salmon from a series of covered, raised platforms
Possible viewings from as close as 10 metres
Natural beauty where telephoto lenses are commonly used but not necessary to get good pictures
A leisurely lunch of fresh made wraps, snacks of homemade baked goods and granola bars, and beverages such as coffee, hot chocolate, tea, and water
Onboard Bathrooms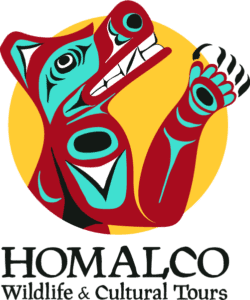 GRIZZLY BEAR COMMITMENT

Campbell River Whale Watching and Adventure Tours wants you to see Grizzlies.
If you do not see a Grizzly on your tour with us between September 10th and September 30th, then we will take you out again at no charge, on a stand-by basis, until we do see one.
Commitment available to full fare paying Grizzly Tour clients and is valid for 24 months. Non-transferable.
Booking and Cancellation Policy: 
Full payment is required at the time of booking.  Customers will receive a full refund or credit with 48 hours notice of cancellation up to 4 people (7 day notice required for groups larger than 4 people). Customers will also receive a full refund or credit in case of operator cancellation due to weather or other unforeseen circumstances. Contact us by phone to cancel or inquire about a cancellation. No-shows will be charged the full price.  All trips are subject to fees and taxes.
Grizzly Bear tours have an additional $20 conservation fee which goes towards the Salmon Enhancement Fund for the Homalco First Nations
Commercial Bear Viewing Association 
We are proud members of the Commercial Bear Viewing Association (CVBA). The CVBA is dedicated to conservation, supporting research, and training. The CVBA has established science backed Best Management Practices, and continues to evolve the industry standard as new research comes out. Our Bear Viewing Guides, along with the onsite First Nation Guides in both Bute and Toba Inlet are Certified Bear Viewing Guides and have gone through a 2 day training course hosted by the CVBA.
Each guest on our tours is issued a "CVBA Bear Viewing License" when they join us on a tour. This $15 license fee goes directly towards conservation efforts by the association.