Posted:
Vancouver Island might be small, but it's packed full of endless and amazing summer activities. Working in tourism, we can't count how many times a day we get asked what the best thing to do on the island is. It can be very overwhelming trying to plan the perfect vacation and deciding which activities are the most worth while – especially when you are trying to fit them into a short time frame. We want to make sure everybody gets the best experience on the beautiful West Coast, so we've compiled a list of our favorite activities!
This might be bias, but of course Whale Watching!
Vancouver Island is surrounded by the Pacific Ocean, which is swimming with all types of wild sea life. The most popular tours to do are Whale Watching and Bear Watching excursions. Different spots on the island offer different combinations of wildlife. We have various types of whales all around the island, but we mostly see Gray Whales, Humpbacks, Orcas, and Minke Whales. We also have Black Bears who love to come down to the shoreline at low tide and feed on the grub beneath the rocks. From the inside of the island, you can head over to the mainland by boat where you have the chance to see Grizzly Bears as they feed on spawning salmon. While out on the water, you can also see Sea lions, Seals, Otters, Eagles, Dolphins, and Porpoises. The summer weather brings the best conditions on the water – warm weather, low winds and calm seas make for a great way to spend the day! Regardless of the purpose of your tour, we definitely recommend exploring everything the ocean has to offer.
Some other options on the water:
Fishing
Rapids Tour
Canoeing
Kayaking
Stand-up Paddle Boarding and Surfing
You can't miss out on the local Brewery, Winery, and Distillery Tours
Almost every town on the Island has either a brewery, winery, or distillery offering exceptional flavours unique to that area. Breweries, specifically, are hubs for tourists and locals to meet up with old and new friends to connect and share their experiences with each other while getting local information on what to check out next. Most places have beautiful patios where you can soak up the sun while enjoying the wonderful scenery. The best way to experience the different places is to hop onto a local tour. This takes the stress away from you, and allows you to just relax and enjoy the different spots without having to find a designated driver or a safe ride home.
Great Breweries, Wineries, and Distilleries on Vancouver Island:
Beach Fire Brewing and Nosh House
40 Knots Winery
Wayward Distillery
Cumberland Brewing Company
Beaufort Wines
Shelter Point Distillery
Coastal Black Estate Winery
Tofino Brewing Co
Tofino Craft Distillery
Phillips Brewing & Malting Co
Unsworth Vineyards
Hoyne Brewing Company
It's not a trip to the island if you haven't gone Hiking
Endless forests, and long beautiful beaches are just a few of the things you can experience while hiking the endless list of trails on Vancouver Island. Whether you're new or experienced, there is definitely a trail for you. Depending on the skill level of the hiker, you can be limited to certain trails especially if you aren't comfortable in the natural environment. Lots of local companies offer guided tours for hiking, which can be a great option for inexperienced hikers and families. The summer time is a great time of year to hike in the forests and along the coast. The dry weather makes it safer, and the sunshine definitely makes it more enjoyable. Most trails on the island are fairly graded, well-marked, and maintained making them safe and easy to use for almost everyone.
Some of our favorites:
Ripple Rock Trail
Elk Falls Trail
Seal Bay Nature Park
Trent Falls
Wild Pacific Trail
West Coast Trail
Coast Trail
Paradise Meadows Loop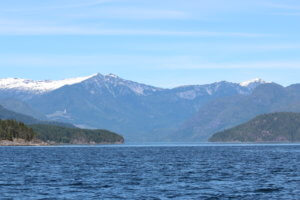 The best part of Vancouver Island is how diverse and beautiful the landscape is, and the best way to experience it is with great company and local knowledge. Whether you're traveling alone, with family or with friends, you can never go wrong with guided tours. It makes traveling stress-free and much more enjoyable!
These are just a few examples of our favorite summer activities to try out while in visiting the island. We hope you enjoy the natural beauty as much as we do!
written by:  Madelyn Mason